Mr.

Kho

,

Sin Bin Joseph
Date of Birth
:
24th May 1944
home
Date of Death
:
23rd August 1964
Biography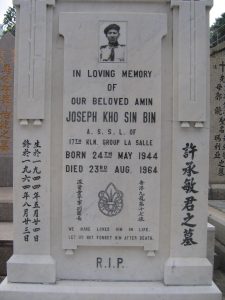 Joseph was a loyal 17er of La Salle College.
Location of grave:
Joseph's grave is in St Michael's Catholic Cemetery, Happy Valley.
The grave is located in the Section I of the cemetery. As one enters the cemetery from the gate close to the cemetery office, walk straight along the path parallel to the main road. Almost reaching the very end of the path and the last grave, look left and up one row, Joseph's grave is the second or third one from the end of the second row. It's not difficult to find. There is no grave number.
Categories:
Deceased
,
Old Boys