Bro.

Pang

,

Henry
Date of Birth
:
14 April 1920
home
Years of service in LS
:
28
work
fax
Period of Service
:
1957 – 1984
cell
Subjects taught / role
:
First Headmaster of La Salle Primary School
work
Date of Death
:
22nd May 1993
Biography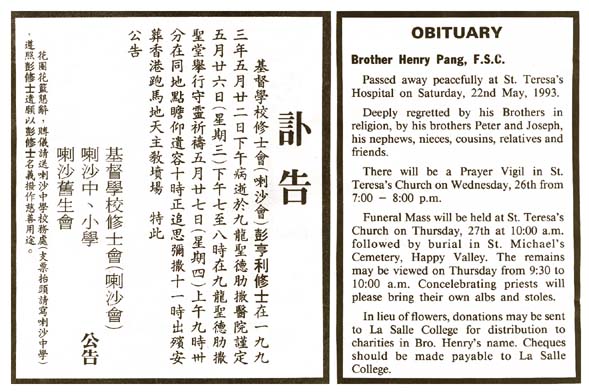 Brother Henry Pang was born on 14th April 1920, in Haifung, Guangdong, China. He studied in La Salle College and joined the Juniorate with Brother Anthony Cheung. He entered the Novitiate of the De La Salle Brothers in Malaysia in May 1939. After finishing his religious and professional formation in 1945, Brother Henry taught mainly in Taiping, Malaysia. In 1955 Brother Henry was conferred with a B.A. degree from the University of London. La Salle Primary School (LSPS) was established in 1957 to serve as a feeder school to La Salle College and Brother Henry became her first Headmaster. LSPS quickly established itself as the leading Catholic Primary School in Hong Kong. Brother Henry remained as the Headmaster until his retirement in August 1984. He adopted the holistic approach of education – physical, spiritual, intellectual, moral and aesthetic. He practiced great devotion to Mary and was a spiritual director of the Legion of Mary. He was active in developing the Scout movement of Hong Kong. His active life included a keen interest in painting and calligraphy. During his retirement there was always a constant stream of visitors seeking his company and advice. With great faith, Brother Henry faced a high-risk heart surgery at St. Teresa's Hospital, Hong Kong. After regaining consciousness, he spoke, laughed and joked until the end. Brother Henry died in St. Teresa's Hospital, Hong Kong on Saturday, 22nd May 1993.
| | |
| --- | --- |
| Contributed by: | Joseph Poon (70)         2009-11-18 12:34:43 |
| Description: | Brother Henry, Thank you. As usual, I engage a 40 days retreat between November 11 and December 21. The spiritual exercise is for giving thanks the 10 years we have passed, help us, help us to sail smoothly again for another 10 years. Perhaps the world will change quite a bit after this, please, look upon your sons of La Salle to see that their courage shall not fail, we pray to thee that your intercession always be warm and timely. Amen. |
| | |
| --- | --- |
| Contributed by: | Robert Yuen Kar Ngai (71)         2009-01-18 16:02:15 |
| Description: | Brother Henry admitted me to Primary One of LSPS in 1960. He was an excellent Headmaster and aroused the 'fighting spirit' among the primary school students. While I was in Primary Six, just before the SSEE, Brother Henry organised a one day picnic to Sai Kung for our class of P.6C, to reduce our mental tension for the dreaded examination. He would be remembered by thousands of grateful students from La Salle Primary School. |
| | |
| --- | --- |
| Contributed by: | Joseph Poon (70)         2008-11-04 15:01:44 |
| Description: | I met Brother Henry when I was 7, in 1959. He taught me humility by showing Jesus washing the feet of the apostles during the Last Supper. In 1963 there was an apparation of Blessed Virgin Mary in LSPS, a bishop was dispatched from Taiwan to investigate. Where Our Lady appears, Satan is not far away, 1966, the LSPS wall collapsed, killing 4 people, one of them was a Form 2 student, Mok Lai Yown. Padre Pio (Saint Pio canonized on 2002 June 15) came to Hong Kong in October of the same year. Padre Pio was known to be an exorcist. LSPS is a very special place, and Brother Henry is a very special catholic. I am sure, Saint Pio and Brother Henry are in heaven, praying for all boys of La Salle. Thank You, Brother Henry. You will always be remembered in the month of November. |
| | |
| --- | --- |
| Contributed by: | Johanis — J. Sudama Sasraandjaja CISA ('56-'59) Jakarta Indonesia         2007-12-07 11:50:05 |
| Description: | Thank you again for this remembrance. The last time I visited Bro. Henry, he was sick in bed with swollen legs. He kindly gave me some excellent calligraphies. He was a kind and dynamic person. Bro. Felix Sheehan and Bro. Henry provided me excellent lodging at the Brothers' House, Perth Street, during my half year waiting for taking the Hongkong School Exam. I dearly remember them both. |
| | |
| --- | --- |
| Contributed by: | Bill Foo (71)         2005-11-17 03:27:41 |
| Description: | In 1966, I fell victim to Bro. Henry's cane. I was caught whispering to a LSPS classmate. A minor offense, but because I was a class prefect in Primary 5, Bro Henry showed us that no one was above discipline–an important lesson in life. I left for the United States in 1968 (while attending LSC Form 2) and returned for a visit in 1989. Brother Henry presented my brother and I with some of his personal water color paintings which he had stored in his closet. To this day my brother has them on display at his home in Los Angeles. |
| | |
| --- | --- |
| Contributed by: | Kenneth Young (88)         2004-10-15 13:38:10 |
| Description: | I remember after my promotion to Form One, I met Bro. Henry while playing tennis at LSC. He was at the swimming pool next to the court. He asked me to come over to apply ointment to sooth his leg muscle which I did it. He said, 'You are going to be a doctor when you grow up'. Though it did not turn out that way, I'd never forget this incident. I think I never expressed how much I want to thank him. |
| | |
| --- | --- |
| Contributed by: | Clement Chan (87)         2004-07-03 12:51:59 |
| Description: | Bro.Henry was also an old boy of SJC and LSC (1st or 2nd year of the school) in early 1930s. Without LSPS, LSC will be just another Catholic school in HK. We owe so much to him. |
Categories:
Brothers
,
Deceased
,
Old Boys
,
Teachers