Dear Fellow Old Boys,
September denotes the start of autumn, as well as the beginning of a new School Year. This September means even more, as this is when La Salle College kicks off its 90th Anniversary Year celebrations.
At this special moment, I would like to write to you and report specifically on what the School and the LSCOBA had prepared to pave the way for the upcoming celebrations.
The School launched her 90th Anniversary Year celebrations on September 10 with a special ceremony held in the School Hall. With Brothers, members of the IMC, representatives from the LSCOBA and La Salle College Parent Teacher Association, as well as current teachers and students attending, the Ceremony was short but sweet. The slogan for the Anniversary – 'Hearts Aflame with Faith and Zeal' – as well as the logo of the Anniversary, were announced and introduced. In his speech, Principal Tong reiterated the School's determination to stay true to our founder, St. John Baptist de La Salle, in nurturing the spirit of service among our students.
On the same day, the LSCOBA also hosted the La Salle Dress Up Day to complement the Kick-off Ceremony taking place at school, so that Old Boys could participate and share the joy off-campus. Old Boys were encouraged to wear any accessory or clothes with the La Salle brand, take a selfie or two, and upload the picture on social media with specific hashtags.
Hundreds of smart photos with La Salle masks, ties, hoodies, tees, watches, flooded our Facebook and Instagram page, just in that morning. A senior came to me and said this campaign reminded him of 'Once a Lasallian; Always a Lasallian', and our faith and passion for Lasallian morals and values.
The School has also launched a website for the Anniversary celebration. We have also populated our e-Shop with the first batch of 90th Anniversary souvenirs for online sale.
Please stay tuned for the School's announcement on celebration events in the upcoming months. As a member of the School's 90th Anniversary Organizing Committee, I am aware that members of the La Salle community would be eager to learn more about the School and to celebrate the School's 90th Anniversary anytime and anywhere. We would work to allow as many Lasallians and friends as possible from all around the globe to participate.
More details are included in the following sessions. I hope you enjoy reading.
Yours in La Salle,
Kent Lau
President, LSCOBA, 2021-22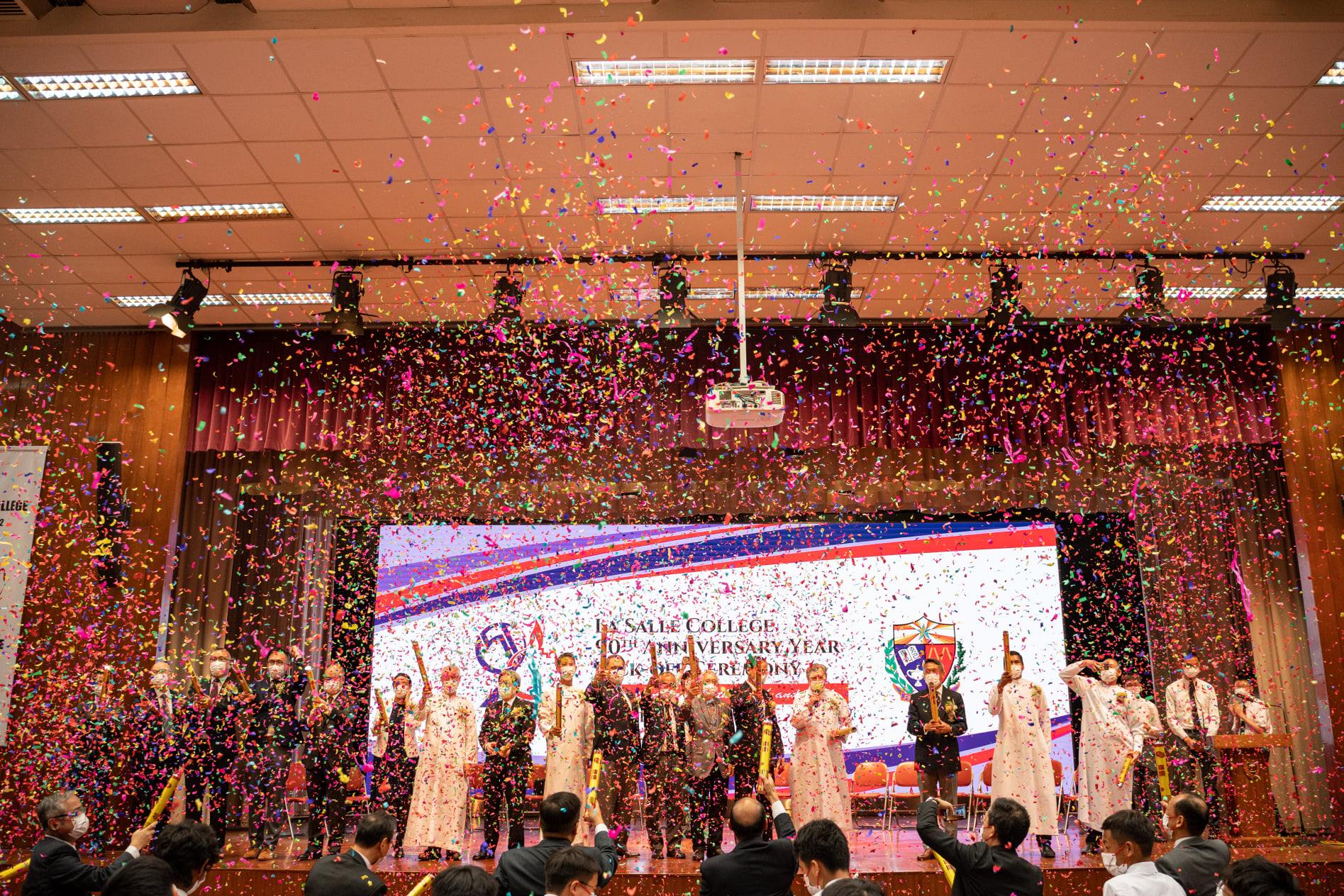 La Salle College 90th Anniversary Year Kick-Off Ceremony
La Salle College 90th Anniversary Year Kick-off Ceremony was held in the School Hall on September 10. Around 200 participants including School Management, representatives from LSCOBA and LSCPTA, teachers, and students attended.
La Salle College Campus TV Production Team has prepared a video for the highlights of the Ceremony, which is available on their Youtube channel.
LSCOBA President Mr. Kent Lau attended the Ceremony, and was invited to present the anniversary pins to Form 6 students. After the ceremony, Kent took a photo with Principal Mr. Tong Wun Sing, and Vice-Principals Mr. Joseph Hui, Mr. Steve Leung and Mr. Samuel Chan.
Interested to show off your treasures?
The school is now expanding and renovating the school's Heritage Centre. The LSCOBA is assisting the school's quest to enrich its heritage collection. If you have any items or photos that relate to the history of La Salle and student lives, we would love to learn about them, as well as the stories behind them.
Donation or loan of items for the heritage collection would be most welcome. If you'd like to show us anything in your treasure chest, please send us an email (admin@lscoba.com) or visit here!
LSCOBA Heritage Subcommittee
Official 90th Anniversary Website
To celebrate the 90th anniversary and to provide updates on different celebration activities, the School has launched an official website including messages from Brother Thomas and Principal Tong, greetings from friends and Old Boys from all over the world, sharing of memories by members of La Salle family, and updated information on the upcoming celebration activities. Check it out!
La Salle College 90th Anniversary Year Kick-off Ceremony Opening Prayer
Prayer leader 1 (P1)
Prayer leader 2 (P2)
P1: In the name of the Father, and of the Son, and of the Holy Spirit.
P2: Amen
P1: Let us remember we are in the Holy Presence of God
P2: Let us adore him.
P1: We thank You Lord, for the gift of our founder, St. John Baptist de La Salle, Patron of all teachers. He responded to your call by seeing the needs of the less privileged children and he took visionary action to provide them with a human and Christian education. We thank You for the spiritual legacy he left to the Lasallian Family, the Church and the World.
We praise You Lord, for the gift of Br. Aimar and the La Salle Brothers who established our alma mater 90 years ago. They fulfilled the mission of Lasallian education with selfless devotion. Through their prayers may our school continue to be blessed and protected. P2: We pray to You Lord, for guiding all Lasallians. Let them be a living sign of your compassion and bring the Lasallian mission with competence and greater commitment in reaching out to the last, the lost and the least.
P2: We pray Lord that you will guide all Lasallians in Hong Kong and around the world. Let them be a living sign of your compassion. Help them carry out the Lasallian mission to reach out to the last, the lost and the least with competence and commitment
Our Father in heaven, grant us the gift of wisdom to live out the Lasallian spirit of Faith and Zeal in our daily lives. Give us courage and daring to overcome all difficulties. Strengthen the bonds of our brotherhood so that we bring peace and goodwill to our families and to Hong Kong society.
We asked this through Christ our Lord, Amen.
P2: Let us say The Lord's Prayer together:
Our Father, who art in heaven, hallowed be thy name; thy kingdom come, thy will be done on earth as it is in heaven. Give us this day our daily bread, and forgive us our trespasses, as we forgive those who trespass against us; and lead us not into temptation, but deliver us from all that is evil.
P1: St. John Baptist De La Salle
P2: Prayer for us
P1: Live Jesus in our hearts
P2: Forever.
P1: In the name of the Father, and of the Son, and of the Holy Spirit.
P2: Amen
The Lasallian Shop by LSCOBA – 90th Anniversary Series The Lasallian Shop by LSCOBA – 90th Anniversary SeriesWe have populated our e-Shop with the first batch of souvenirs specifically designed to celebrate the 90th Anniversary. Our designers are also working on more items of 90th Anniversary souvenirs. Please drop by and choose something for yourself and friends, and stay tuned for upcoming items! We will also announce the second round of purchase of La Salle Surgical Masks soon.